Each and every year the Michigan Brewers Guild have four major festivals in which they collect a huge number of beers from the now over 300 breweries in the state. Every October the Fall Beer Festival takes over Eastern Market in Detroit, MI. and this year is no different! With 800 different beers from 120 breweries, the list is the biggest ever. But with over 800 beers, we tell you the 20 we want to try at the festival!
A Detroit staple for years, Atwater worked with the Detroit City Distillery to create this barrel aged IPA.  Don't expect too much hops in this as it's going to hit you hard with the Gin but finish smooth.  We suggest starting off with this beer for the day and support the Detroit brewery as they continue to be a major part in the revitalization of the city!  Why not check out our SHOW that we had on with the head brewer at the time!
2. B. Nektar – Zombie Killer
One of the few chances you can get a glass of delicious mead for the price of the beer, B. Nektar's Zombie Killer is the most on point cherry cyser you could find at a beer fest, let alone anywhere in the world.  Zombie Killer is sweet and to the point, and one of my go to drinks when I get to the taproom!  If you're in town for the event, stay the night and check them out the next day!
Black Lotus has been a bit quiet as of late after their Ninja v. Pirate beer one a gold, but that hasn't stopped Nick the brewer from brewing delicious beer!  The I-75 Red Eye is an coffee infused pale ale that really kicks up the pale ale game.  This isn't for the faint at heart, will definitely give you a coffee bitter taste but if that is something you like, this is something you must have!  Nick has been a guest on our show a few times, you can check them out HERE and HERE!
We can not say enough good things about Cellarmen's.  Even with a malt liquor that they're bringing to the event, we chose the Saigon Sin to match up with some of their core values of drinks!  A 4/5 on Untappd, it's really the cinnamon and vanilla bean that makes this cider one of the best in the world, and I will say that at the top of my lungs!  While it is sweet (it's a cider, duh), if that is your style of drink, this is the one you need to get!  We have had Cellarmen's on a few times, you can check out their interviews HERE and HERE!
John at Dearborn has done a lot of things, but we are curious how this will measure up to his Rouge River Red.  Dearborn Brewing in downtown Dearborn has the history of being the first (with Downey soon to follow), and definitely has one of the most humble brewers in the world.  He is in it for the passion, and you can tell by the hours he spends honing his craft.  We can't wait to see if this beer lives up to the Rouge River Red, but definitely a brewery you should give a shot if you've never had!  We had John on the show, and you could listen to it HERE!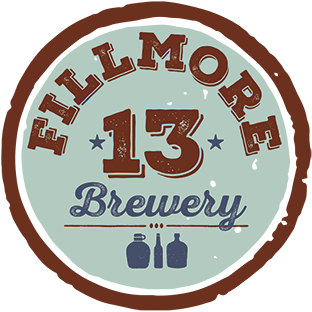 This was the winner of the UP Beer Festival for me!  This apricot dubble (yes, dubble), has the right mixture of a Belgian style beer with the flavors that an apricot can bring out.  If you don't like apricot beers, you won't like this, and I won't sell you on trying it.  But if you're a fan of Magic Hat #9, Castlebrite, etc.  This is a MUST for you!
One of the first we chose simply by the name, but it was the definition that caught our eye.  Using the Zythros hops with the brown malt build and a touch of chocolate, we would expect this beer to lean more on the European style of browns (as opposed to Americans which are a bit hoppier/bitter).  We can only hope to add it to the long list of browns in the state of Michigan and not just be an "IPA State"
8. Odd Side Ales – Barrel Aged Sweet Potato Souffle Rye
The best part about the Detroit Fall Beer Festival is that it comes right after GABF, and that means we're getting some brand new Gold Medal beers!  Now obviously these beers would be here no matter what, but with that shiny metal, it's your chance to try something that the professionals tell us is the best!  So stay away from the pumpkin spice everything and move towards this BA Sweet Potato Souffle Rye!  I can imagine the kick and sweetness will still be huge!  We have had OSA on our show twice, listen to them HERE and HERE!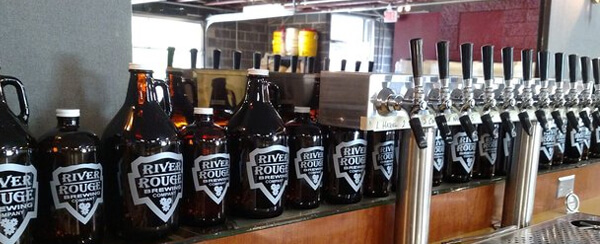 One of my favorite things when I go to a brewery is talking to the people working their.  They are the ones whom are working, pouring, and doing their best to give us great service.  When you go to RRB, it's typically ALWAYS Eddie back there.  Eddie greets you with a friendly smile and a cold glass of beer, and the PB Express is probably one of his best.  The beer may be a bit too sweet with the peanut butter, but the espresso portion of it mellows it out a bit adding a bitter aftertaste.  I'd typically call these a palette ender where you should drink a glass of water after, as your next 4 beers will taste like peanut butter and espresso if you don't.  It's delicious!  Just be weary of what you drink after!
Another GABF medal winner at the event, Rockford brewing shows us how to make a huge impression with a euro brown ale.  Malty, sweet, and delicious.  There really isn't much else to say except the fall is when these brown ales truly come out to play, and Rockford's Rogue River is the one above the rest!
A pumpkin beer at a fall festival?  Never!  Snowbelt is a sneaky surprise up I-75 that I think the spices add to this beer allowing for it to be probably a sneaky favorite of the entire festival!  A good mix of spices with a pumpkin finish that isn't too overbearing will allow for you to enjoy this without getting too bored of the flavor!
This caught our attention when we looked at the beer list!  Unity Vibration makes delicious Kombucha beers but the name itself is what stopped us in our tracks!  We interviewed the BrewGyver last year and he was a wealth of knowledge, and one of the more well known people in the community who does a lot of help getting breweries up and running.  This is a beer that is a must try, as well as a brewery that is a must try!  You can listen to our SHOW with Unity Vibration as well as our shows with BrewGyver HERE and HERE!
This toll free beer is a wet hopped New England IPA!  From the makers of This Guy, this beer is sure to be a great mixture of the wet hops with the New England style!  Check it out but be careful of the lines this place may have with their "fury" lines.  Get in there quick.
Barrel aging a sour in tequila barrels, good idea… adding blueberries, lime, and salt, epic idea!  Coming in only at 7.5% abv, this beer is going to give you a very well balance of sweetness, tartness, and saltiness, and smells of tequila, but it doesn't taste of tequila!
Many people always talk about a few different beers at Pigeon Hill, OCP, YMOFT, etc.  This double IPA is heavier on the grapefruit than the bitterness of a double IPA.  Coming in at 9.4%, be a little careful drinking it as the booze is hidden behind the citrus, and something that will be a good crisp on a nice crisp fall day in Detroit.
Another tequila barrel aged beer on this list, Bad Hombre is an imperial gose clocking in at 12% that seemed like a big hit at the UP Fall Beer Festival.  Don't get turned away by the name, this beer is solid, easy drinking, and delicious!
17. New Holland Brewing Co – Dragon's Milk Reserve: Coconut Rum Barrel
I personally can't speak highly enough as this is my favorite DM reserve variation.  I think I had it 7-8 times while I was volunteering on Saturday last year at the fall beer festival.  The coconut is pretty heavy, hits you hard, and isn't hidden, but it's smooth and delicious.  If you like coconut, you'll love this!
One of the most regular (and sought after) beers, winning a gold medal in the world beer cup in 2012, the DRIP (Double Rice IPA) gives you a huge citrus aroma but more maltier than you would expect for a double IPA.  Using the rice and cereal mash gives it a nice dry and crisp snap.  We have had Jon on our show a few times to talk about the industry.  Here is your chance to listen to the one with Jon and Ascension, Brewers Guild, and EPISODE 100!
What doesn't say fall in Detroit more than a hoodie, college football, and smores!  Bon Bon Fire gives you the last one as the milk stout with chocolate and marshmallows and a little bit of cinnamon allows for a nice crisp drink to have, and at 5.7% abv, very sessionable!
Working with Rosedale Beer and Bistro, the project from Detroit Beer Co's Justin Riopelle  and Derrick Collins, this beer could be one of many things.  Justin is so talented at the traditional style of beers, that this is one that I don't mind going in 100% blind, and taking a chance.  Why not, this is a beer fest right!!!!  We've had Motor City Brewing Works on our SHOW, as well as we had Justin on our SHOW.